Barrett has a new obsession. The book Goodnight Gorilla. I know, he is a 13 month old baby (who is seriously in perpetual motion for every waking hour) that has an obsession with a book. I still can't get over the surprise that this has been for me. This is a book that we received from Dolly Parton's Imagination Library (Just a side note for any other parents with youngsters, they mail your child a free book for every month from birth till your child is 5 or 6, I can't remember). It has been great, and it is nice to have a new book to read at night to change things up. This book is super cute, and one of my favorites. See how cute it is....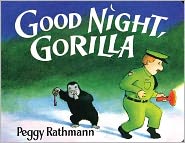 But this book has become more than just a cuddly moment at night. When I went in to get Barrett on Sunday morning when he woke up he started saying "Guh guh!!" and pointing over to his books. When I carried him over to the shelf he immediately grabbed the book and started pointing at the Gorilla on the cover. So I took it into my room for him to read while he got his morning bottle. He didn't just want me to read it, he continued flipping the pages by himself for an HOUR! This is unprecedented Barrett behavior. He never wants to sit in bed quietly on the weekends, and certainly won't stay still for an HOUR! Later that day Gavin was playing in the books at Buy Buy Baby when Barrett started saying "Guh! Gug!" again, of course Gavin turns around and there on the shelf was the book! This time Barrett was not going to let it go. He, sure enough, made me become the mother I said I would never be. Let me describe the scene. Busy store with lots of people, and no screaming children (well at least not at this moment).... Happy little families walking by enjoying the day, that beautiful moment is shattered when a well meaning momma takes the happiness her child is holding in his hands away. Now picture a screaming child in the store... people turning to see who was making this child scream loud enough to hear through the whole store... seriously.... what did I do next... hand that little book right back to Barrett. He immediately stops crying... Barrett - 1 Mom - 0. Yes I am on now on the path to letting my child threaten me with embarrassment just so he can have the what he wants. We now have TWO copies of Goodnight Gorilla at our house. By the way, I am justifying this purchase with the fact that this new copy is a board book, and Barrett can't rip the pages.
But isn't this a little heartwarming... this was what I Barrett was doing right before I left for work this morning.